Global Equities sunk 3.68%% in August on fears of more aggressive interest rate hikes by central banks in their fight against soaring global inflation. The MSCI All-Country World Index is off 17.75% YTD, its worst eight-month start to a year since its inception. Global bonds were unable to provide reprieve, as the Bloomberg US Aggregate Bond and International Bond indexes fell 2.83% and 3.46% respectively this month and they too are off to their worst start in their index histories with YTD returns of negative 10.75% and 10.21% respectively.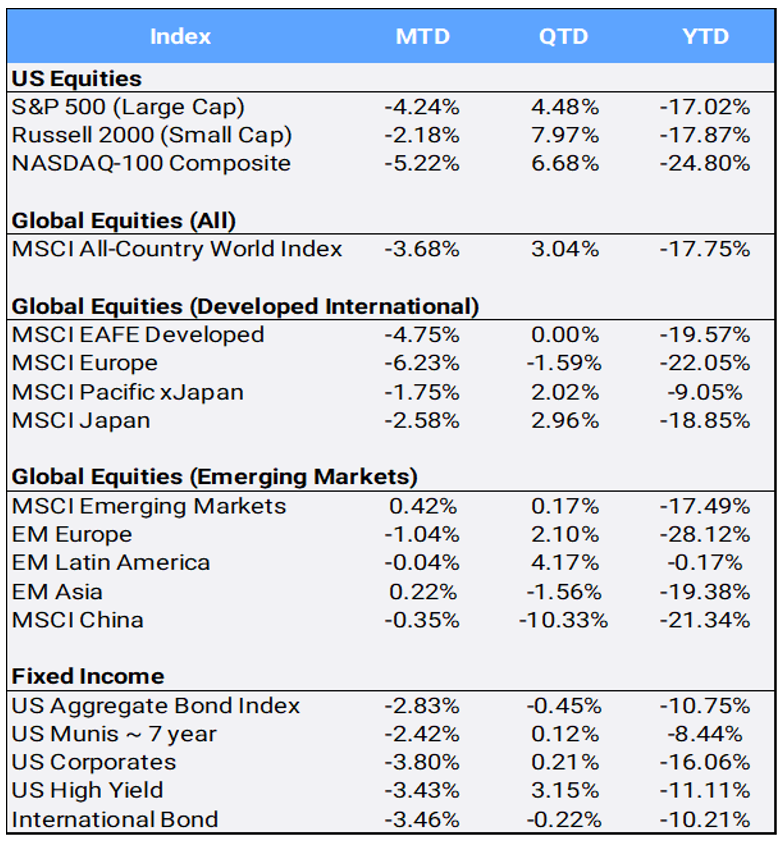 Click the image to view the chart larger.
Source: Bloomberg Pricing Data, as of August 31, 2022
While a mid-August rally saw the S&P 500 surge to its highest point since April, the index has since reversed, and fell 4.24% over the course of the month. The rally turned over following the annual Jackson Hole symposium, where Federal Reserve Chair Jerome Powell stated that the costs of reducing inflation may be painful for growth but are necessary to restore price stability – indicating that the US central bank is likely to keep raising interest rates and leave them elevated in its battle against rising prices.
On the US economic front, the second estimate of Q2 GDP was revised to -0.6% from -0.9%, still meeting the criteria for a technical recession. But other data suggested that the U.S. economy, while slowing, is not quite yet in a recession. Personal income and spending edged higher in July, while August's final estimate of consumer sentiment progressed. In addition, US labor markets remain tight as there are now two job openings for every unemployed person in July, – data appearing to support arguments that the economy can tolerate more rate hikes to tame inflation that is running at multi-decade highs.
Internationally, the Bank of England increased rates by 50bps while saying that Britain should expect a lengthy recession. The Royal Bank of Australia instituted an identical rate hike, further pressuring the country's highly leveraged housing market. Euro-area inflation accelerated to another all-time high with consumer pricing jumping 9.1% in August, likely strengthening the case for the European Central Bank to consider a jumbo interest-rate hike when it meets in early September.
The US Dollar appreciated 2.64% in August and rose to its highest level in over two decades. YTD, the "greenback" has gained in seven of eight months, and has appreciated 13.62% against a basket of international currencies.
European developed markets were the worst performing MSCI region, falling 6.23% in August as investor sentiment has been hit by mounting record inflation, a looming European energy crisis and concerns over a hawkish ECB monetary policy. Emerging markets, however, were able to manage a 0.42% gain this month. Brazil stocks climbed 2.20% in August as the country's presidential race heats up pitting front-runners Luiz Inacio Lula da Silva and Jair Bolsonaro in debates where there is no shortage of mentions of "corruption" during the Workers' Party administrations. Still, MSCI Brazil is up 5.58% YTD in one of the rare markets in the green for 2022. Meanwhile in China, equities slipped 0.35% MTD to bring YTD returns to negative 21.34%. The People's Bank of China cut two key interest rates as retail sales and industrial production continues to disappoint. Scorching heat waves across the country have forced factories to shut down, exacerbating supply chain issues.
Gold slipped 3.11% for its fifth consecutive down month, posting its longest monthly losing streak in four years. Gold is known as a safe investment during economic and geo-political crisis, but a high-interest rate environment makes the non-yielding asset less attractive to investors. Silver and copper fell 11.62% and 1.73% in August to bring YTD returns to negative 22.81% and 20.21% respectively. Bitcoin is often billed as "digital gold" fell 15.68% this month, and the world's largest cryptocurrency, is now down 56.41% YTD.
Despite the selloff in metals this month, the Bloomberg diversified commodity index was able to manage a 0.09% gain and is up 23.59% YTD. Natural-gas prices skyrocketed 10.91% to 14-year highs as uncertainty clouded European distribution networks, and analysts say that persistent extreme weather could create more supply disruptions and possibly send prices even higher. YTD, natural gas is up a whopping 144.69%.
Energy was the best performing sector this month, gaining 2.64% despite crude oil prices falling 9.20% this month. So far in 2022, oil has gained 19.07% and energy stocks are up a sector-best 48.13% YTD.
Disclosure Statement
Perigon Wealth Management, LLC ('Perigon') is an independent investment adviser registered under the Investment Advisers Act of 1940. More information about the firm can be found in its Form ADV Part 2, which is available upon request by calling 415-430-4140 or by emailing [email protected]
Performance
Past performance is not an indicator of future results. Additionally, because we do not render legal or tax advice, this report should not be regarded as such. The value of your investments and the income derived from them can go down as well as up. This does not constitute an offer to buy or sell and cannot be relied on as a representation that any transaction necessarily could have been or can be affected at the stated price.
The material contained in this document is for information purposes only. Perigon does not warrant the accuracy of the information provided herein for any particular purpose.
Additional Information regarding our investment strategies, and the underlying calculations of our composites is available upon request.
Data Source: Bloomberg Pricing Data, as of August 31, 2022.
Annual Form ADV
Every client may request a copy of our most current Form ADV Part II. This document serves as our "brochure" to our clients and contains information and disclosures as required by law.
Perigon Wealth Management, LLC is a registered investment advisor. Information in this message is for the intended recipient[s] only. Different types of investments involve varying degrees of risk. Therefore, it should not be assumed that future performance of any specific investment or investment strategy will be profitable. Please click here for important disclosures."