The Russian invasion of Ukraine sent risk assets plummeting in February as the conflict, the resulting sanctions and soaring inflation add more uncertainty to the global economic picture. The MSCI All Country World Index dropped -2.58% in February to bring YTD returns to -7.37%. Bond markets were unable to provide reprieve as the US Aggregate and International bond indices returned -1.12% and -1.66% respectively. The CBOE/S&P Volatility Index, often referred to as the "fear index" spiked to 30.15 this month, well above 17.22 where it started the year.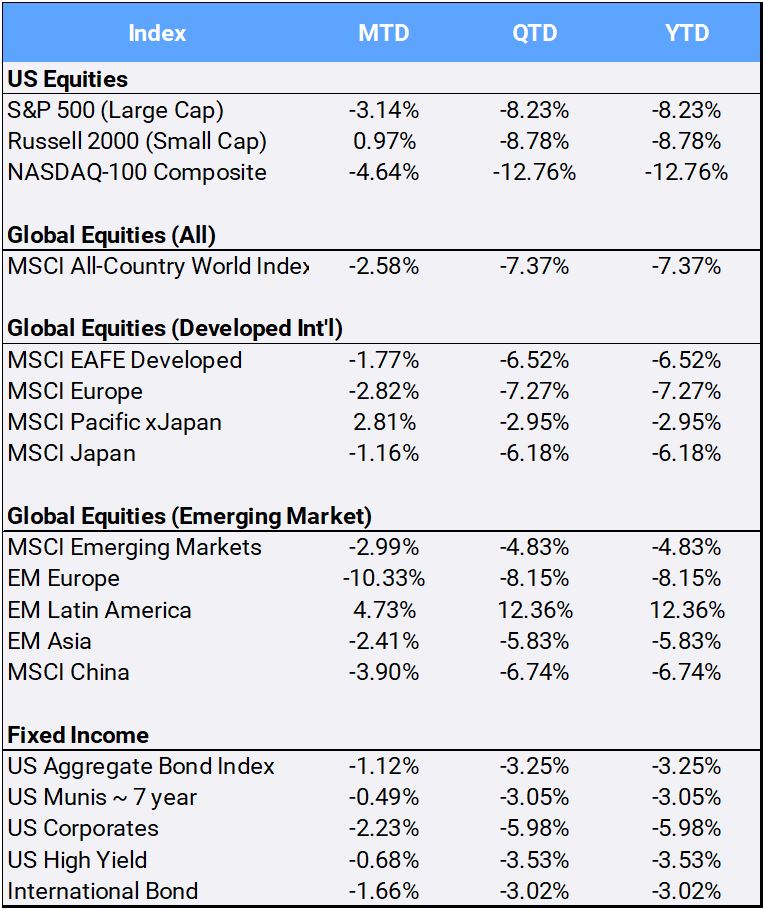 Click the image to view the chart larger.
Source: Bloomberg Pricing Data, as of February 28, 2022
The invasion led investors to wonder how it might affect Federal Reserve policy. Chairman Jerome Powell said on March 2nd the central bank expects to raise rates by 25 basis points at its March meeting, and will proceed 'carefully' after that, interpreted as continuing with 25-bps increases. In the U.S., the Core Personal Consumption Expenditure price index (excluding food and energy) rose 5.2% YoY in January and 0.5% MoM, its highest levels since April 1983. In addition, the U.S. Producer Price Index jumped 1% MoM in January, twice the anticipated level, and soared 9.7% YoY.
Internationally, the U.K. Consumer Price Index hit 5.5% YoY, a 30-year high. Canada's inflation rate also exceeded 5% and may compel its central bank to raise rates at its March meeting. China's PPI increased 9.1% YoY, while consumer inflation there remained surprisingly subdued, inching up only 0.9% MoM.
Russia's invasion of Ukraine represents one of the worst security crises in Europe in decades, and Russia was the worst performing country this month as its index plunged -52.75%. The Bank of Russia halted trading at the end of February to prevent further capital from leaving the local market in an attempt to shield the economy from sweeping sanctions. Russia represents ~2.15% of the MSCI Emerging Markets index, which slipped -2.99% in February to bring YTD returns to -4.83%. Things have gotten so dire that index giant MSCI declared that the Russian market is "uninvestable" after stringent new Western sanctions and central bank curbs on trading – making the potential removal of Russia listings from its benchmark indexes a possible "natural next step". (Yikes!)
Latin America remains a bright spot in 2022, gaining 4.73% this month and 12.36% on the year. Brazil represents ~4.95% of the Emerging Markets Index and has been the index's largest positive contributor this year, gaining 4.57% in February and 18.04% YTD as its rate hikes and higher tax revenues have attracted investors. The country's central government accounts – Ministry of Finance, Social Security, and the Central Bank – have started 2022 with a record surplus of $15 billion, the best month since the historical series began in 1997.
The diversified Bloomberg Commodity Index jumped 6.23% in February to bring 2022 returns to 15.56% YTD. Oil surged above $100 per barrel for first time since 2014 before settling the month at $95.72, up 8.59% in February and 27.27% from where it began the year. Energy companies benefitted from rising oil prices, as it was the only sector in the black this month, gaining 7.17% in February to bring YTD returns to 27.33%. The worst performing sectors this month were communication services (-7.46%), technology (-4.99%), and real estate (-4.91%).
In terms of market capitalization size, small cap stocks (<$2bn market cap) outperformed their large cap peers, with the Russell 2000 staying positive at 0.97% vs. the S&P 500 dropped -3.14% in February. In terms of style, value stocks continue to add value or at least add a cushion, relative to their growth counterparts. The Russell 3000 Value and Growth indexes returned -1.17% and -4.07% respectively in February to bring their YTD returns to -3.82% and -12.61% respectively.
Gold, often seen as a haven in times of geopolitical turmoil, gained 6.22% to close the month at $1,908.99 an ounce. Meanwhile, Bitcoin, viewed in crypto circles as a store of value like gold, gained 8.37% this month, but remains down -10.10% for the year.
Disclosure Statement
Perigon Wealth Management, LLC ('Perigon') is an independent investment adviser registered under the Investment Advisers Act of 1940. More information about the firm can be found in its Form ADV Part 2, which is available upon request by calling 415-430-4140 or by emailing [email protected]
Performance
Past performance is not an indicator of future results. Additionally, because we do not render legal or tax advice, this report should not be regarded as such. The value of your investments and the income derived from them can go down as well as up. This does not constitute an offer to buy or sell and cannot be relied on as a representation that any transaction necessarily could have been or can be affected at the stated price.
The material contained in this document is for information purposes only. Perigon does not warrant the accuracy of the information provided herein for any particular purpose.
Additional Information regarding our investment strategies, and the underlying calculations of our composites is available upon request.
Data Source: Bloomberg Pricing Data, as of February 28, 2022.
Annual Form ADV
Every client may request a copy of our most current Form ADV Part II. This document serves as our "brochure" to our clients and contains information and disclosures as required by law.
Perigon Wealth Management, LLC is a registered investment advisor. Information in this message is for the intended recipient[s] only. Different types of investments involve varying degrees of risk. Therefore, it should not be assumed that future performance of any specific investment or investment strategy will be profitable. Please click here for important disclosures."