Global equities started the New Year strong, but then faltered by month's end. As of January 21, the MSCI All-Country World Index was up 3.75% for the month and making new all-time highs — but then sold off and finished the month down 0.45%. In the U.S., the S&P 500 Index posted its first negative month since October, declining 1.11% despite a strong start to earnings season. Of the companies reporting financials by month's end, 82% substantially beat Wall Street's earnings estimates, and 76% showed positive surprises for revenue.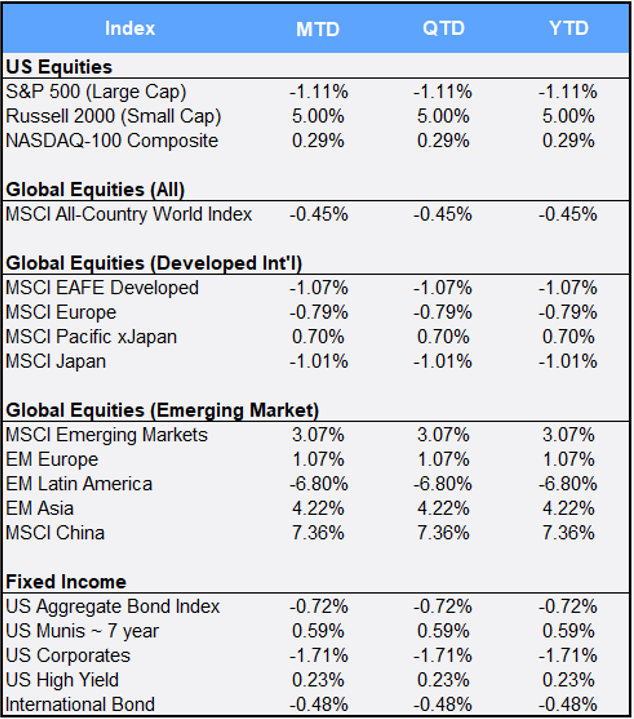 Click the image to view the chart larger.
Source: Bloomberg Pricing Data, as of January 31, 2021
U.S. small-cap stocks rose for a fourth month, gaining 5.00% in January. Yet it was a list of heavily shorted stocks at the center of a social media frenzy that grabbed headlines. GameStop screamed up 305% to become the second-largest name in the Russell 2000 index. Other stocks caught up in the Reddit-driven frenzy included Express (up 534% for January), AMC Entertainment (up 513%) and Bed Bath & Beyond (up 89%).
Seeing the impact of social media ripples on broader pricing in global equities exacerbated investor jitters. The CBOE/S&P Volatility Index, a gauge of market stress also known as the VIX, jumped 45% in January to finish at 33.09.
New 2020 data showed the U.S. economy continued its rebound, albeit more slowly. Real GDP grew at a 4% annualized rate in Q4, a drop from the 33.4% annualized rate in Q3. Overall, the U.S. economy contracted 3.5% in 2020 — its largest annual decline dating back to 1948. The Fed left rates unchanged this month, as expected, keeping monetary policy loose in an effort to boost the overall economy. Chairman Jerome Powell noted the recovery's slowdown and continued weakness in COVID-exposed sectors.
Global bond markets softened in January, as the U.S. Aggregate Bond Index and International Bonds fell 0.81% and 0.71% respectively.
The U.S. dollar edged up 0.72% in January against a global basket of currencies.
The MSCI EAFE Index slipped 1.07%. Europe's comparatively slow rollout of vaccines and supply delays created concerns about prolonged lockdowns and weighed on the region's equities. Elsewhere overseas, the Emerging Market Index climbed 3.07%, in January: Chinese equities gained 7.96% as technology behemoth Tencent surged 20.84%. The spike made Tencent the first non-U.S. company with a $1 trillion valuation.
Gold fell 2.67% in January, but silver jumped 2.22% as Reddit posters created a short-squeeze rally on the commodity front as well. Meanwhile, after a 305.07% rally in 2020, Bitcoin continued to climb, with a 19.47% jump in January.
Disclosure Statement
Perigon Wealth Management, LLC ('Perigon') is an independent investment adviser registered under the Investment Advisers Act of 1940.
Performance
Past performance is not an indicator of future results. Additionally, because we do not render legal or tax advice, this report should not be regarded as such. The value of your investments and the income derived from them can go down as well as up. This does not constitute an offer to buy or sell and cannot be relied on as a representation that any transaction necessarily could have been or can be affected at the stated price.
The material contained in this document is for information purposes only. Perigon does not warrant the accuracy of the information provided herein for any particular purpose.
Additional Information regarding our investment strategies, and the underlying calculations of our composites is available upon request.
Data Source: Bloomberg Pricing Data, as of January 31, 2020.
Annual Form ADV
Every client may request a copy of our most current Form ADV Part II. This document serves as our "brochure" to our clients and contains information and disclosures as required by law.
Perigon Wealth Management, LLC is a registered investment advisor. Information in this message is for the intended recipient[s] only. Different types of investments involve varying degrees of risk. Therefore, it should not be assumed that future performance of any specific investment or investment strategy will be profitable. Please click here for important disclosures."