Global equities continued their Q2 rebound, posting a 3.2% gain in June to bring quarterly growth to 19.2%. Virus fears continue, but investors appeared to find hope in 1) optimism for "flattening-the-curve" efforts, 2) economic re-openings, 3) possibilities for a vaccine, and 4) waves of global fiscal accommodative policies and government stimulus expansion expectations.
In the U.S., Q2 was "the best of times" (or close to it) as the S&P 500 posted its best quarterly return since 1998, with U.S. large cap stocks gaining 20.0%. (This quarter followed the "worst-of-times" Q1: In the worst Q1 on record, the benchmark plunged 22.6% as the Covid-19 pandemic shook markets.) The Nasdaq 100 made an all-time high in June and finished the month up 6.3%. The index is predominantly made up of technology companies, which was the best performing S&P sector in June, gaining 6.9%. Utilities were the worst performing stocks this month, returning -4.7%.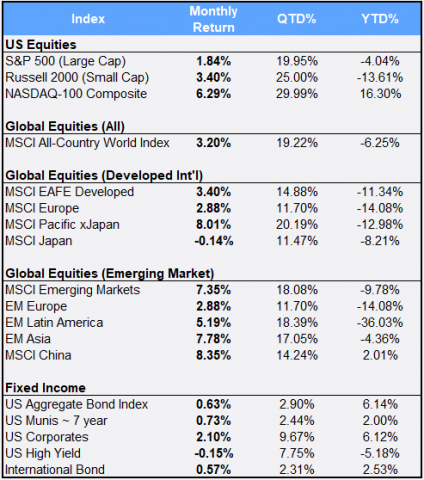 Internationally, both developed economies & emerging markets also rallied 3.4% and 7.4% in June to bring Q2 returns to 14.9% and 18.1%. Caution lurked in the weeks before the quarter closed as the number of U.S. Covid-19 cases ticked upward, with international countries now restricting American travelers from entering their borders.
Gold closed just below $1,800 an ounce after gaining 2.93% in June and remains a common holding for jittery investors looking to hedge both stocks and bonds.
U.S. Treasury rates remained very low, with the 10-year rate at 0.63%, reflecting the likelihood that the Federal Reserve's accommodative policies would persist for an extended period of time. On the corporate side, sales of "junk" bonds hit record levels in June as debt-saddled corporations rushed to raise $51.5 billion in cash. The oversupply pushed high-yield bond returns down 0.15%.
The CBOE S&P 500 Volatility Index (VIX), often called the "fear index", closed the quarter at 30.43, almost 50% higher than the long-run average VIX level. On March 16, 2020, the VIX closed at a record high of 82.69 at the peak fo the COVID-19 financial crisis.